Victoria Beckham Spring 2013 RTW
By Erin Donnelly
09/09/12 at 11:18 AM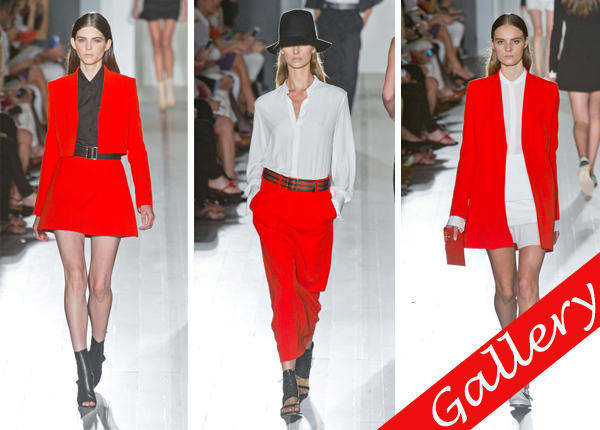 SHOW: Victoria Beckham Spring 2013
THEME: Posh Spice gets real
HAIR: Guido Paolo for Redken
MAKEUP: Diane Kendal for Maybelline
ACCESSORIES: Flat sandals by Manolo Blahnik with leather gladiator-style legwarmers; tall black hats with floppy brims; wide belts; peep-toe booties; large clutches with lattice-print detailing
OVERALL TAKEAWAY: You know a collection is good when we almost (almost!) forget that Mr. Hottie Hotterson himself, David Beckham, is in the building.
Sticking to a palette of black, white, and an invigorating reddish saffron (take that, pastels!), the former pop star proved that her fashion success is no fluke by delivering a collection that promised "versatility, modernity, and ease," according to the show notes.
Taking inspiration from her real female shoppers, Beckham added more forgiving cuts and (shocker!) flat shoes from Manolo Blahnik to give her minimalistic pieces a dash of democracy. A white blouse with lace lattice-print sleeves and hip-length jackets slashed at the midsection had a universal appeal, while sexier options included flashes of peekaboo underwear and flirty miniskirts that marked a major departure from the designer's typical knee-length sheaths.
What we're really crushing on, though, are the form-fitting sheaths with smart little collars, sexy lace panels, and sharp cuts that, we couldn't help but notice, seemed to create several "V" shapes. Don't worry, Posh—there's no subliminal messaging required here.
YOU MAY ALSO LIKE:
---